Treatment of acute bacterial prostatitis
Treatment should be based on severity of symptoms, risk factors for complications. Most patients can be treated with antibiotics on an outpatient basis; fewer than one in six patients will require hospitalization.
Medication treatment of acute bacterial prostatitis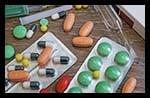 Initial empirical antibiotic therapy should be based on the suspected type of infection and the suspected infectious organism (Table. 1). Antibiotics should be adjusted based on culture results and sensitivity.
Men younger than 35 who are sexually active and men over 35 who engage in risky sexual behavior should be treated with regimens that cover N. gonorrhoeae и C. trachomatis.
Patients with risk factors for antibiotic resistance require intravenous therapy on broad-spectrum regimens because of the high likelihood of complications.
Table 1. Antibiotics for treating acute bacterial prostatitis
Drug (1)
Dosage and duration of course
Oral first-line antibiotics (if sensitive) (Note 2)
Ciprofloxacin (3)
500 mg twice daily for 14 days, then revise (4)
Ofloxacin (3)
200 mg twice daily for 14 days, then revise (4)
An alternative oral antibiotic of first choice if a fluoroquinolone antibiotic is not suitable (e.g., contraindicated, no susceptibility to treatment) (Note 2)
Trimethoprim
200 mg twice daily for 14 days, then review (4)
Oral second-line antibiotics
Levofloxacin (3)
500 mg once daily for 14 days, then reconsider (4)
Co-trimoxazole (5)
960 mg 2 times daily for 14 days, then reconsider (4)
Intravenous first-line antibiotics (if oral antibiotics are not available or systemic infection is suspected). If sepsis is suspected, drugs can be combined. Prescribed based on susceptibility based on culture results (notes 2, 6)
Ciprofloxacin (3)
400 mg two to three times a day
Levofloxacin (3)
500 mg once daily
Cefuroxime
1.5 g three to four times a day
Ceftriaxone
2 g once daily
Gentamicin
Initially 5 to 7 mg
Gentamicin serum concentrations (7)
Subsequent doses are adjusted according to the serum amikacin concentration (maximum 15 g per course) (7)
Notes:
See. guidelines for appropriate use and dosing in specific populations, such as the presence of liver damage and renal failure, as well as the possibility of intravenous antibiotics.
It is important to check all previous results of urine culture and sensitivity to antibiotics, as well as previously prescribed antibiotics and choose the appropriate drug.
See. Recommendations for limitations and precautions when using fluoroquinolone antibiotics, since there are – albeit very rare – reports of acute and potentially long-term or irreversible side effects affecting the musculoskeletal and nervous system. Warnings include: discontinue treatment at the first sign of serious adverse reactions (e.g., tendonitis), administer with extreme caution to persons over 60 years of age, and avoid concomitant administration of corticosteroids.
Review treatment after 14 days and either discontinue the antibiotic or continue for another 14 days – if necessary, based on clinical evaluation.
Co-trimoxazole should only be considered if there is bacteriological evidence of its sensitivity.
It is necessary to reconsider the use in.
Therapeutic drug monitoring and renal function evaluation are necessary.
The duration of antibiotic therapy for mild infections is usually 10 to 14 days (with an extension of two weeks if the patient continues to have symptoms) or four weeks for severe infections.
Patients with a febrile course typically develop a fever within 36 hours of starting antibiotic therapy. After the infection has subsided and the fever is gone, switch to oral antibiotics and continue treatment for another two to four weeks. Repeat urine specimens should be taken a week after stopping antibiotics to make sure there are no bacteria.
UTIs are usually caused by urinary tract pathogens, but STIs such as chlamydia and gonorrhea should be considered, especially in young men. If the causative agent is suspected to be chlamydia, it is appropriate to prescribe azithromycin 1 g orally stat or doxycycline 100 mg orally twice daily for 7 days.
If gonorrhea is suspected, 500 mg ceftriaxone intramuscularly and 1 g azithromycin orally are indicated. Contact tracing, notification, and treatment are also important in these cases.
Supportive measures include drinking plenty of fluids, taking antipyretics, and pain management (mostly NSAIDs).
Surgical treatment of acute prostatitis
One in 10 patients with acute bacterial prostatitis experience acute urinary retention. Therefore, eliminating urinary tract obstruction is an important aspect of treatment in getting rid of the infection and relieving pain. However, the best approach to this intervention has not been determined.
Cystostomy brings relief and may prevent chronic infection. An easier option for relieving obstruction is urethral catheterization.
Complications of acute bacterial prostatitis
Prostate abscesses occur in 2.7% of patients with acute bacterial prostatitis. Risk factors for prostate abscess include prolonged urinary catheterization, recent urethral manipulation, and an immunocompromised condition.
Approximately 13% of patients with acute bacterial prostatitis experience a relapse, requiring a longer course of antibiotics.
Patients with persistent or recurrent symptoms should have a repeat urine culture to evaluate recurrent bacterial prostatitis. These should be treated based on culture results.
After three months of persistent or recurrent symptoms, patients should be evaluated and treated according to chronic prostate syndrome guidelines. About 1 in 9 patients with acute bacterial prostatitis will develop chronic bacterial prostatitis or chronic pelvic pain syndrome.
Preventive measures
There are no known strategies for preventing nosocomial acute bacterial prostatitis. Hospital-acquired infections can be reduced by avoiding unnecessary manipulation of the prostate, such as transrectal biopsy or urethral catheterization.
Reduces the risk of postoperative complications (UTI, acute prostatitis, bacteriuria, and bacteremia) with antibiotics before transrectal prostate biopsy. A typical prophylactic regimen is an oral dose of ciprofloxacin 500 mg 12 hours before the procedure, with a repeat dose during the biopsy. In patients at increased risk for fluoroquinolone-resistant bacteria, a preoperative stool culture is performed to select antibiotics.
Given the resistance to fluoroquinolones and other drugs and some spread of atypical pathogens of acute bacterial prostatitis, new approaches to the prevention of the disease are needed.